Windows - Reservations Software







Please Click on the Remote Support (Blue and White) Icon Below
For all support related, please phone the number below ...


0409 504 679
anytime for urgent matters.




Click on "Save File". The remote support tool will start the download and save it to your downloads folder, usually in c:\USERS\<YOUR LOGIN NAME>\Downloads...

When you click on the "Allow UniRes Support to work directly on my computer" link,a small file will be downloaded on to your computer.

Your Internet connection will be used. All information viewed or collected will remain confidential.
When prompted, click on the Run option.

Our support desk must expect your internet call.

We will be able to see and work with your PC just like we are sitting in front of your computer.

In the lower right of your screen a small Blue and White logo will appear. You can right-click on this logo and select Close to force termination of the Remote Control session.
No software is permanently loaded on your computer.
Note that in some circumstances, your data may be backed up to our secure server for security purposes and to perform data integrity checking or analysis.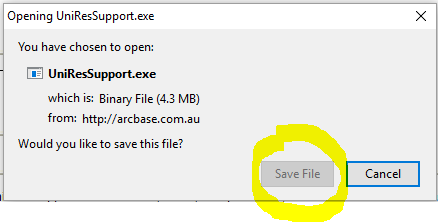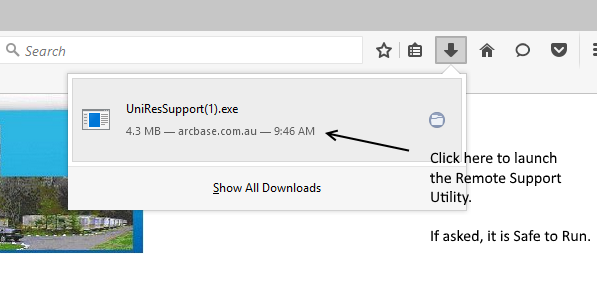 If you already have Teamviewer loaded or running
in the background, a message will appear like the one below.

Exit Teamviewer first and repeat the download or relaunch the previous downloload and continue.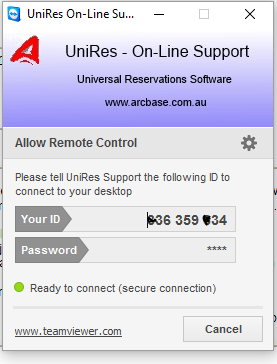 Ready to Connect!


When this Popup box appears, our support person will require
you ID and Password. A connection is made and he/she will then be able yo see your screen and have duplicate mouse and keyboard facility to help with your support inquiry.

Note that when the connection is terminated by the support person or by you, the client you downloaded will still be on your download folder or where you saved it, but the connection can not be reinstated without your intervention.

Teamviewer is usually installed and set to auto allow connections with your approval only.

We use Teamviewer 10 only for support.